VA-Caravan is an effective tool for protecting your recreational vehicle/caravan from dirt and weather, both in seasonal storage and under camping conditions.
Please note! VA-Caravan seasonal covers currently have a delivery time of approximately three weeks.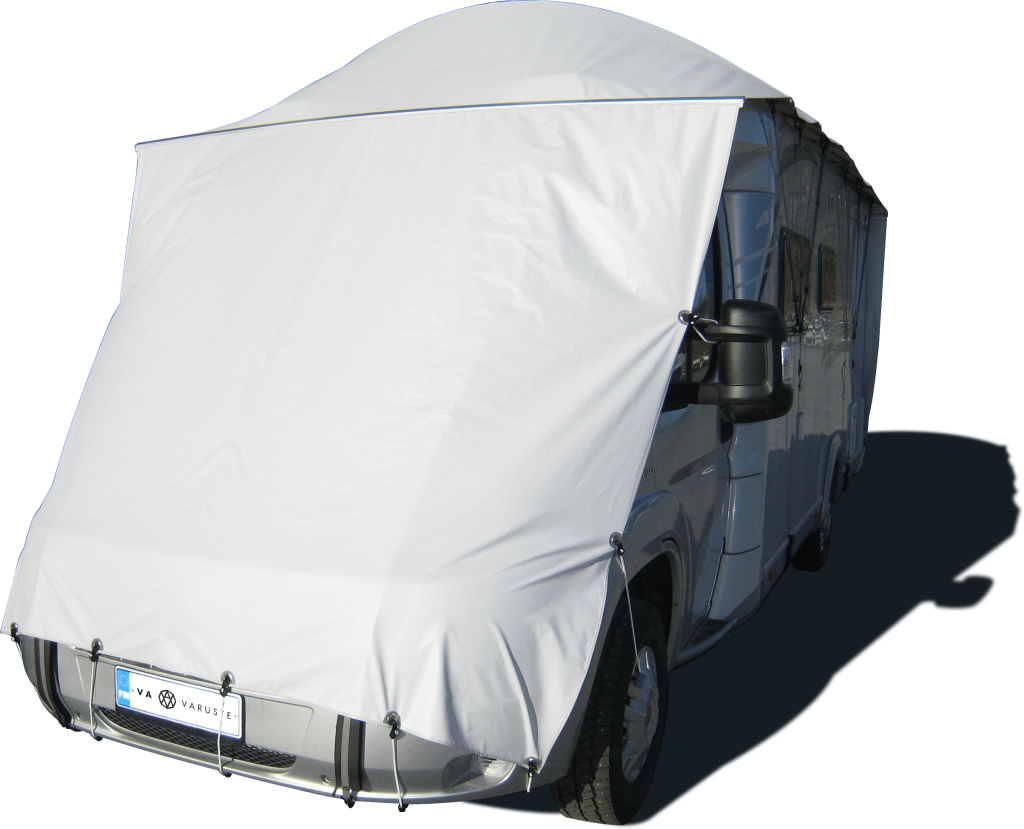 Protect your recreational vehicle or caravan.
VA-Caravan is an easy-to-use seasonal cover for protecting recreational vehicles and caravans. The cover is always designed specifically to best suit your model. VA-Caravan is suitable for all winter storage and seasonal locations as well as camping sites. You can move the vehicle/caravan even with the cover installed on the roof.
Protects from dirt and weather
Customer-focused solutions
Lightweight, yet durable.
The seasonal cover only weighs approximately 15 kg, so it is lightweight yet durable. The fabric parts are made of UV-protected weather-resistant PVC/PU blend and the frame is made of Excel fiberglass parts. Installing the seasonal cover is easy and fast.
The cover fits a small space and is delivered in its own storage bag. The affordable covers are high-quality Finnish products. All VA-Caravan products are always manufactured model-specifically. To place an order, you need to give us certain measurements of your recreational vehicle or caravan, information about its make and model and a picture taken from the side of the vehicle/caravan.
Prices start at €850 – Ask for a quote:
Please note! To be able to give you a quote, we need the following additional information:
Manufacturer, model and year of the recreational vehicle/caravan
Length, width and height of the vehicle / caravan and its roof length (see ordering instructions)
If possible, a picture of your recreational vehicle / caravan taken directly from the side.
A model of the VA-Caravan seasonal cover is on display in Espoo
Submit a quote request for the seasonal cover

Please note! VA-Caravan seasonal covers currently have a delivery time of approximately three weeks.

Please read the ordering instructions before filling in the form.

Our customer service will contact you, when the offer request has been processed.
Extra insulation against cold
We also carry a range of thermal covers. A thermal cover provides additional comfort for your recreational vehicle when you need extra insulation against cold. The cover extends over the windscreen and the side windows of the cab, reducing heat escape from inside the vehicle. The thermal cover also protects windows and cab door handles and locks from freezing. It also provides privacy for the inside of the vehicle. We manufacture thermal covers for many different makes of recreational vehicles.
Ask your recreational vehicle dealer for a VA thermal cover!
Size 2,25 x 1,4m. Window size 160 x 50.
Installing seasonal cover